Detroit Rock 'n' Roll

1965 - 1971
---
| | |
| --- | --- |
| | A few years back I put together a CD of some classic Detroit Rock tracks. It quickly became popular amongst friends and was duly copied and distributed. It also generated conversation on the validity of the tracks and those which were not included ( no ? & the Mysterians?!!). Thus was born this project to put together as much of the classic rock that emerged from south-west Michigan between 1965 - 1971 as possible. Still it was necessary to edit out a large amount of music to break down to this "essential" 3 CD compilation. |
| | |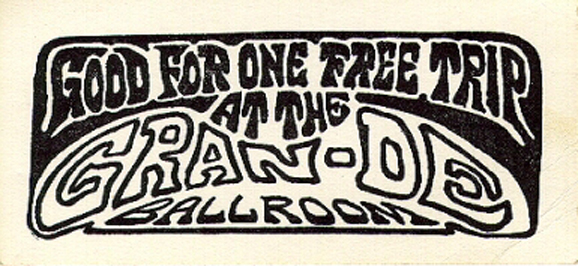 Detroit Rock Vol. 1: Birth of the Noise 1965 - 1967 (75:58)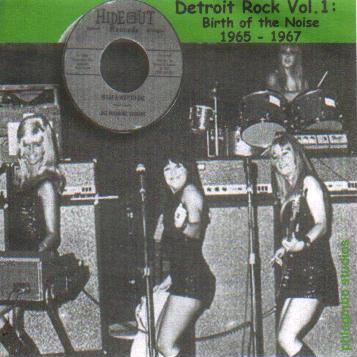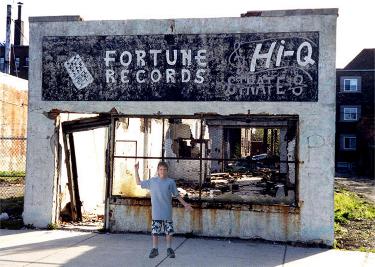 1. Doug Brown & the Omens - T.G.I.F. (1965)
2. Four of Us - You're Gonna Be Mine (1965)
3. T.R. & the Yardsmen - I Tried ('65)
4. Tidal Waves - Farmer John ('65)
5. Torquays - Shake A Tail Feather ('65)
6. Underdogs - The Man in the Glass ('65)
7. Bob Seger & the Last Herd - East Side Story ('66)
8. Four Of Us - I'll Feel A Whole Lot Better ('66)
9. Henchmen - Livin' ('66)
10. Human Beings - Because I Love Her ('66)
11. Mitch Ryder & Detroit Wheels-Devil With the Blue Dress On
12. Mitch Ryder & the Detroit Wheels - Jenny Take A Ride ('66)
13. Pleasure Seekers - What A Way To Die ('66)
14. Rationals - Respect ('66)
15. Shy Guys - I Gotta Go ('66)
16. Unrelated Segments - Story of My Life ('66)
17. Wanted - In The Midnight Hour ('66)
18. Woolies - Who Do You Love ('66)
19. 1967 Riots audio clip
20. Amboy Dukes - I Feel Free ('67)
21. Bob Seger & the Last Herd - Heavy Music ('67)
22. Unrelated Segments - Hey Love ('67)
23. Bob Seger & the Last Herd - Persecution Smith ('67)
24. Dr. Jack Van Impe - Detroit address ('67)
25. MC5 - I Can Only Give You Everything ('67)
26. Mitch Ryder & the Detroit Wheels - Sock It To Me, Baby ('67)
27. Mushrooms - Burned ('67)
28. Southbound Freeway - Psychedelic Used Car Lot Blues ('67)
29. SRC - I'm So Glad ('67)
30. Tidal Waves - Action (Speaks Louder Than Words ('67)
31. Unrelated Segments - Where You Gonna Go ('67)
Detroit Rock Vol. 2: Guitars and Guns 1968 - 71 (79:04)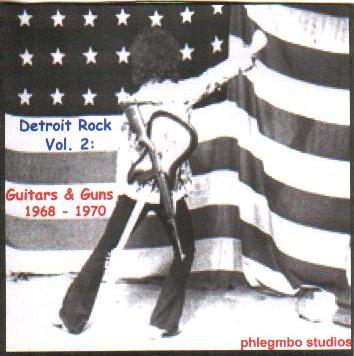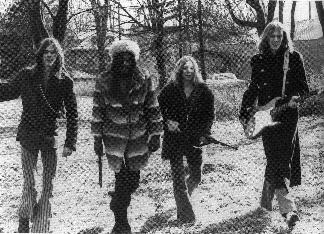 1. Amboy Dukes - Journey to the Center of Your Mind ('68)
2. Bob Seger System - 2+2= ('68)
3. MC5 - Looking At You ('68 45 single)
4. Mitch Ryder - Long Hard Road ('68)
5. Rationals - Guitar Army ('68)
6. Detroit Tigers - clinch pennant ('68)
7. Rationals - Temptation 'Bout To Get Me ('68)
8. SRC - Black Sheep (45 version) ('68)
9. Unrelated Segments - Cool Slick Jenny ('68)
10. Frost - Rock & Roll Music ('69)
11. Grand Funk Railroad - Are You Ready ('69)
12. SRC - Checkmate ('69)
13. Stooges - 1969 ('69)
14. MC5 - Kick Out The Jams ('69)
15. Frijid Pink - Sing A Song For Freedom ('70)
16. Grand Funk Railroad - T.N.U.C. ('69)
17. MC5 - Ramblin' Rose ('69)
18. Amboy Dukes - Migration ('69)
19. Stooges - I Wanna Be Your Dog ('69)
20. Savage Grace - All Along the Watchtower ('70)
21. Alice Cooper - Return of the Spiders
22. MC5 - Call Me Animal
23. Frijid Pink - Crying Shame ('70)
24. MC5 - Teenage Lust ('70)
Detroit Rock Vol. 3: The Big Bust 1970 - 1971 (78:59)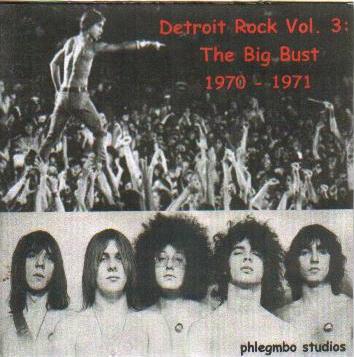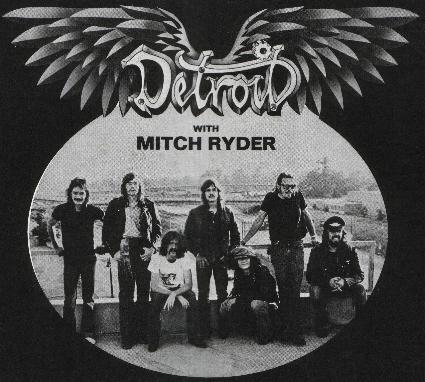 1. Brownsville Station - Rumble ('70)
2. Bob Seger System - Lucifer ('70)
3. Savage Grace - Come On Down ('70)
4. Alice Cooper - Mr. & Mrs. Demeanor ('70)
5. Stooges - Down on the Street ('70)
6. Frijid Pink - House of the Rising Sun ('70)
7. Alice Cooper - Ballad of Dwight Fry ('71)
8. MC5 - The American Ruse ('70)
9. Third Power - Comin' Home ('70)
10. The Up - Just Like An Aborigine ('70)
11. Stooges - 1970 (1970)
12. Alice Cooper - I'm Eighteen ('71)
13. Detroit - I Found A Love ('71)
14. Alice Cooper - Is It My Body ('71)
15. Detroit - It Ain't Easy ('71)
16. Alice Cooper - Long Way To Go ('71)
17. Third Power - Persecution ('70)
18. Detroit - Rock 'n' Roll ('71)
19. MC5 - Skunk (Sonically Speaking) ('71)
20. Detroit - Gimme Shelter ('71)
21. Bob Seger - Hey Detroit!
Detroit Rock Vol. 4 : 1972 - 1976 ????
It's been recently suggested (Mike Panontin) that a Vol. 4 covering the years 1972 - 1980 be compiled including groups like Destroy All Monsters. I see this as a rather daunting task, but if you have any Detroit underground rock from this period or suggestions on groups that should be included for this project, please contact me below.